Horn-Chestnut-Shaped Lips are the most beautiful in the world!!!!!!
Lip Surgery is very popular at this moment, whether they are making thick lips, thin lips, or making "Horn-Chestnut-Shaped Lips." In "Horn-Chestnut-Shaped Lips" surgery, it is widely popular, especially in Asian people. On the western side, people prefer to have thick lips. However, do you know that in the statistics around the world in the past 5 years, the country with the most "Horn-Chestnut-Shaped Lips" surgery in the world is "Thailand," which is more popular than Korea!!!!  
Therefore, it is not strange to say that the most beautiful "Horn-Chestnut-Shaped Lips" in the world come from the skills of our Thai doctors. Today, Admin will show you the example of Horn-Chestnut-Shaped Lips surgery of Dr. Thananchai Atsadamongkhon, Cosmetic Surgery Specialist of Bangmod Hospital. The doctor is well-known for making horn-chestnut-shaped lips for celebrities. He is in the top ranks of Thailand.

Example 1: Khun Tukta, a celebrity who has thin lips with no defined shape. She wants to have horn-chestnut-shaped lips that are not too thin.  
Technique: Since she has thin lips, if the flesh of the lips are cut too much, the lips will become too thin. She will have a gummy smile and cannot close her mouth firmly. The doctor decided to choose the special technique, which is called "3-dimensional horn-chestnut-shaped lips," which is the method in making horn-chestnut-shaped lips without having to cut the flesh of the lips by using absorbable sutures and hiding the wound in the mouth.  
After the surgery, Khun Tukta is very satisfied. Her lips look beautiful. She feels more confident and has a fashion shoot with Image Magazine.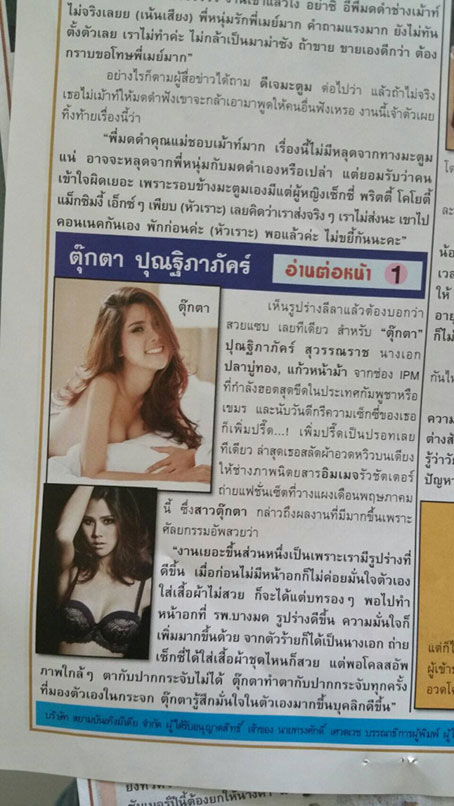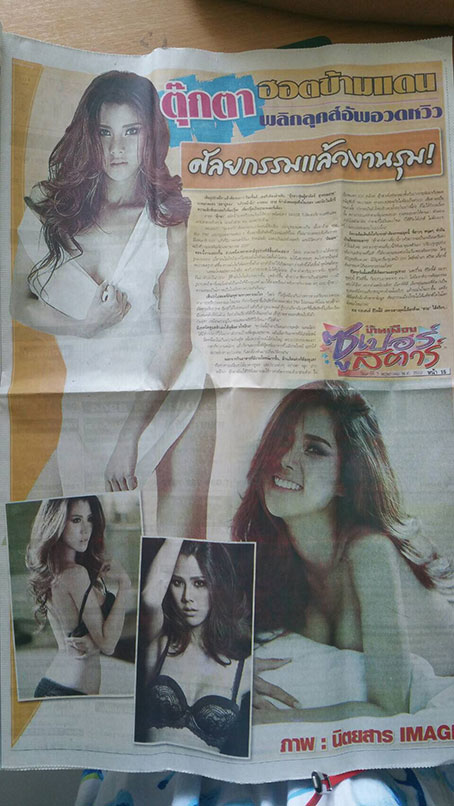 Khun Tukta has been on many newspapers and she has expressed her thanks to Bangmod Hospital and Dr. Thananchai, who did the surgery for her. She became beautiful from having the surgery and successful. No need to be shy.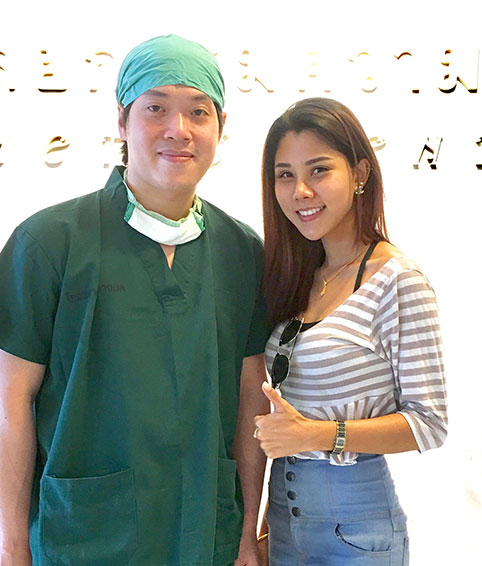 Example 2: A 26-year-old female patient who had a serious accident. Her facial bones were broken with cleft lips and a big wound.  
Technique: The doctor treated the facial bones by arranging the bones and putting in titanium then screwing in place.  
For the big wound at the lips, apart from suturing it back to the same place, the doctor also did horn-chestnut-shaped lips for her. She was lucky. It was like the doctor had given her a present for encouragement.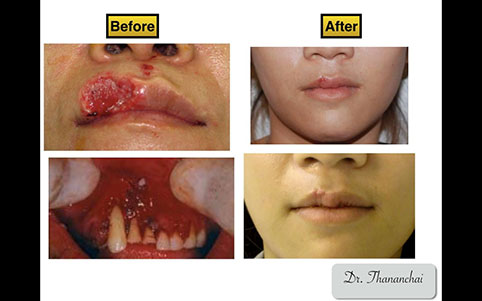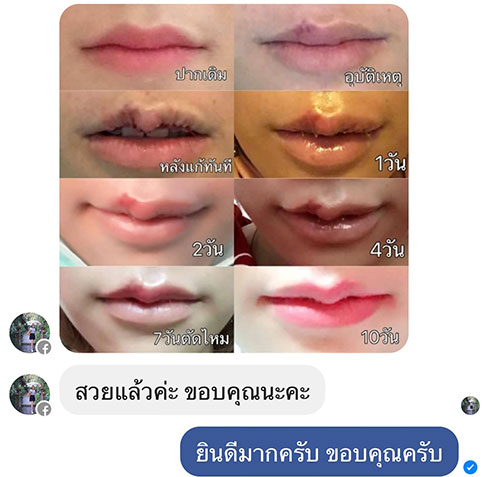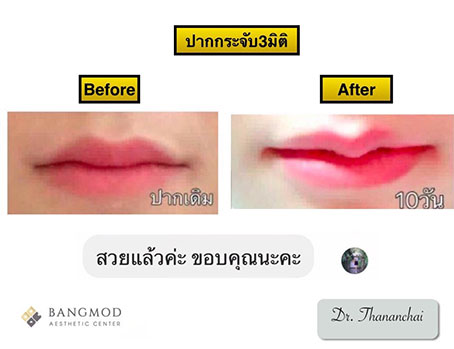 The patient is very satisfied. The surgery not only makes people beautiful and handsome, it also helps patients in accident cases. As for this case, Admin has to give thumbs up for the doctor. Very excellent!!!
Example 3: A 40-year-old female who has thick lips. She wants to do "Horn-Chestnut-Shaped Lips" surgery. However, she has limited recuperation time. She needs a surgery that provides less swelling, quick healing, and natural look. The doctor explained to Admin that 3-Dimentional Horn-Chestnut-Shaped Lips is a minor surgery, using an injected anesthetic. It does not take a long time and the swelling is about 1-2 days. You can eat food and go back to your daily life as usual. Let's look at an example of 3-Dimentional Horn-Chestnut-Shaped Lips." It takes only 1 day with less swelling. You will become beautiful from the very first day.
"Be more confident at Bangmod Hospital". Consult about a surgery problem or ask for more information at 
Facebook : www.facebook.com/Bangmodaestheticcenter
LINE ID : @bangmod
Instagram : bangmodaesthetic
YouTube : http://www.youtube.com/user/bangmodhos