Beauty Tips of "Bangmod Technique" with the Top Surgeon of Bangmod Hospital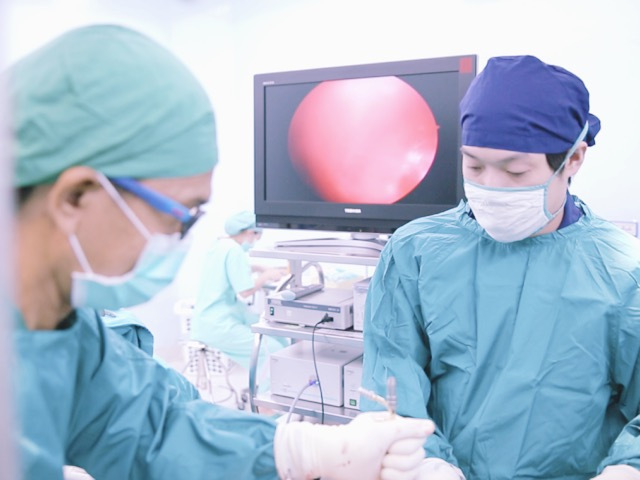 Beauty and women come together. Of course, in a changing era, cosmetic surgery has opened up and is acceptable and has become a normal thing. It is not limited only to particular groups. Nowadays, many women are not satisfied with their appearance. At present, you can walk to a surgeon for consultation openly. 
The most important thing is that nowadays, the information can be given through many channels in order to create the knowledge and understanding about the surgery and published to the public more extensively than in the past. Of course, one of the leaders in the surgery business that has become well-known is Bangmod Hospital.
Dr. Thananchai Atsadamongkhon, Cosmetic Surgery Specialist of Bangmod Hospital, the eldest heir of Dr. Surasit Atsadamongkhon, President of Bangmod Hospital and Associate Professor Dr.  Ketsara Atsadamongkhon, Professor in affiliation of Department of Pediatrics, Faculty of Medicine, Srinakharinwirot University, is the doctor and new generation of executives who will become the leader in terms of surgery to continue with his father's determination. 
Reason for continuing to study in cosmetic surgery
"I decided to study in medicine because I had my father as inspiration. My father has been a surgeon for more than 30 years. He is one of the first pioneers in Thailand. When I had the opportunity to help my father at the hospital, I saw my father help patients who came to consult about cosmetic surgery. The result is that the satisfaction made them become more confident. It was an important inspiration for me to study surgery in particular. When I was a medical student, I had a chance to work with my father at the hospital. He is like my first teacher who taught and transferred the knowledge to me." 
With the determination during those times, Dr. Thananchai Atsadamongkhon is now a top ranked Cosmetic Surgery Specialist of Thailand that even famous celebrities put their trust in. 
Criteria in the consideration to treat the patients 
"Before doing the surgery for each patient, I will discuss and suggest with the patients sincerely and must ask them in which parts would they like to have the surgery. Secondly, I must look at their needs to see whether it relates to the facts. For example: sometimes the patients' original structure is not good but if they want to make it outstanding and if it goes over the medical principle, I will tell them directly. The most important thing is to tell the patients the truth. If they are fine with it and they want to do this and it can be done according to medical principle, they can do it. Or if it is safe to do and not dangerous, it can also be done. Nowadays, surgery has brought technology to assist. For example: CT or MRI for patients to look at their own structure, or other patients' pictures may be used for the decision-making process to see which shape they will get after the surgery to provide understanding to the patients."
Which parts are popular among Thai women? 
"Nose. Most patients who come for a consultation often have a defect in terms of nose. The popular shape is a natural shape. We will use soft silicone that is soft like cartilage and can be twisted and not too high, so it's hard to tell if you had your nose done. It is very popular among Asian people. However, there are some difficult cases. For example: The patient had a broken nose and left it for too long. This patient wanted to have Rhinoplasty but in this case, it was difficult since there were membranes. If it was poorly done, there is a chance of perforation because the skin is really thin. The treatment began with rearranging the bones to let them settle and inserting thin silicone, using the cartilage from the ribs and behind the ears. There is less chance of perforation when using the tissue of the patients. The result was that the patient was very satisfied. We were proud to do it because the patient was rejected from many places." 
What is Bangmod Technique?
"In doing a surgery with Bangmod Hospital, there is a special technique that provides less pain, quick healing, and natural look. For example: Rhinoplasty by using soft silicone. The technique inserts the silicone under the periosteum for a natural look. Celebrities like to use this method or Double Eyelid Surgery by using laser from the inside. The cut on the outside is not needed. The advantage of laser is that the wound is small and you can barely see it, less welling, and quick recuperation. You can wear make-up for a party after only one day! Regarding Breast Surgery, the latest technology together with Bangmod Technique will provide a small wound and less pain, less blood loss, and patients can go home quicker. Patients like to do Rhinoplasty first, followed by Double Eyelid Surgery or Blepharoplasty, and Breast Surgery."
What are the differences between surgery in Thailand and foreign countries?
"First of all, the marketing of Thailand cannot compete with other countries because we have the Medical Council of Thailand, which makes sure that we do not create hype. In other countries, like Korea, they can stick posters with pictures of the doctors, which is more advantageous. Secondly, it is about value. In fact, it has become more acceptable now. In the past, when the patients came, they had to hide and did not let other people know. Today is different. When they have the surgery, they take their pictures and post on social media. In foreign countries, the surgery has been accepted for a long time. Lastly, I would like to say that if you are not talking about both matters as mentioned above, the technology and abilities of Thai doctors are second to none. Even in the world medical business, they know that the surgery in Thailand is in fact very outstanding."
Please leave a comment for those who plan to have cosmetic surgery. 
"I would like to say that the most important thing for cosmetic surgery is safety. The patients must choose a hospital with standards or clinic in terms of sterilization. Secondly, choose the doctors who are specialists and have direct experience because specialists can evaluate the possibilities, structure and tissue, and how much correction is needed to be safe and appropriate. Lastly, the equipment must be according to medical standards to avoid mistakes which can be harmful."
"Be more confident at Bangmod Hospital". Consult about a surgery problem or ask for more information at 
Facebook : www.facebook.com/Bangmodaestheticcenter
LINE ID : @bangmod
Instagram : bangmodaesthetic
YouTube : http://www.youtube.com/user/bangmodhos