Cool Bangmod!! Invents new Face Lift Technique 
Bangmod Hospital shows the surgery technique for "Face Lift" with a new technique called "Bangmod Technique" The procedure has been done in 1,200 cases. The result is that it is natural and the effect is longer. 
Currently, cosmetic surgery in Thailand is becoming popular, especially in age reduction surgery or
Full Facelift
, which has continually been developed.
Recently, Bangmod Aesthetic Center,
which has been open for more than 30 years and is the leader in cosmetic surgery in Thailand, has announced the success of the Full Facelift by
"Bangmod Technique"
after having done the surgery in more than 1,200 cases. 
Dr. Thananchai Atsadamongkhon, Cosmetic Surgery Specialist and Director of Bangmod Aesthetic Center,
 Medically, it is considered to be the best way to make the face look younger. 
However, in the past, there were several problems. For example: The surgery takes a long time; An inhaled anesthetic is needed; There will be bruises for several months; and the result is unnatural. 
Later, the surgery techniques were continually developed with the times. For example: Superficial Muscolo Aponeurotic System
(SMAS technique),
which provides more natural look and more permanent result than Subcutaneous Facelift and the use of endoscopy for the Forehead Lift, etc. 
At present, with more medical experience and big advances in medical technology, Full Facelift is not as difficult and scary as before. 
Bangmod Hospital has invented Full Facelift, which can lift both face and neck, by using the special technique of Superficial Muscolo Aponeurotic System
(Bangmod SMAS Technique).
The anesthetic is injected and the surgery takes about 2-3 hours. After the surgery, it is found that there is less bruises. The average is about 2-3 days and it will settle within 1-2 weeks. With this technique, the result is that it looks more natural and the face looks younger. 
However, Bangmod Hospital is concerned about the safety of the patients the most. Interested persons should consult a specialist first to examine their physical and mental condition according to medical principle thoroughly to see whether you should have the surgery or not."
Mr. Henry Tochterman, a 68-year-old Australian engineer, travelled from a foreign country for surgery by Bangmod Technique. He revealed that he had known about this new surgery technique from YouTube and studied information from several places around the world until he was certain with Bangmod Hospital. After the surgery, he was impressed and satisfied with the result. He is very happy and thinks that he is actually 10 years younger. 
Khun Buppha, a 58-year-old woman, who received the surgery revealed that she travelled from London, United Kingdom, with her husband to have the Face Lift at Bangmod Hospital in particular. After 1 month, she really liked it. Her face looked much younger and natural. Many people would like to follow her. She told foreigners that the skill of Thai doctors and cosmetic surgery in Thailand is second to none.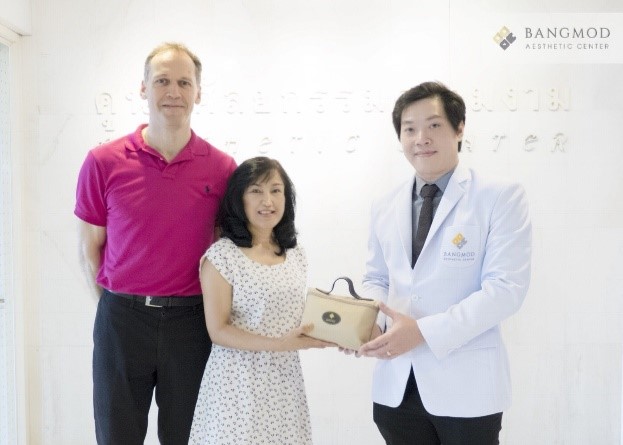 "Be more confident at Bangmod Hospital". Consult about a surgery problem or ask for more information at 
Facebook : www.facebook.com/Bangmodaestheticcenter
LINE ID : @bangmod
Instagram : bangmodaesthetic
YouTube : http://www.youtube.com/user/bangmodhos