Filler or Silicone for Chin Augmentation?
The popular question that has been asked via inbox is "I want to have Chin Augmentation, but can I use my own fat?" Many people think that our own fat is the safest, isn't it? Our own fat is surely safe but why does Admin like to suggest to use silicone for the augmentation? Let's find the answer today. 
First of all, we must understand that Filler is.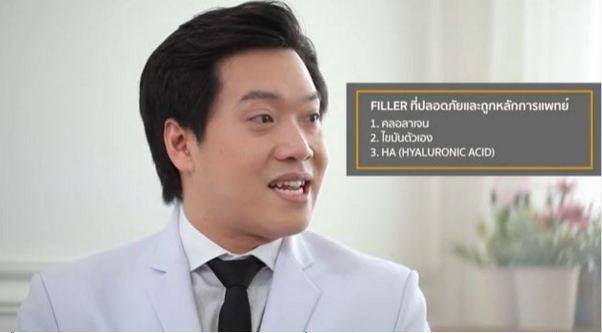 In easy words, Filler is a substance that is used to fill deep wrinkles, like on forehead or marionette lines, which can be divided into 2 types:
1. Non-Medical Filler, such as liquid silicone or olive oil, which might not be safe and may cause deformity and inflammation. 
2. Medical Filler, which are collagen, self-fat, and HA (Hyaluronic Acid). 
If self-fat is safe, why is it not suggested? The main reasons in not suggesting the use of self-fat for Chin Augmentation are:

1. Asian people have less fat. When the fat is needed for injection, a large quantity of fat is needed. How can you get all that fat? (Right?) So, this is the first limitation of why we do not suggest fat injection.
2. Because Filler can flow! Many people might have seen on the news about the flowing Filler that caused the face to deform? That is the result of the Filler. Because Filler is a liquid, as the times go by it will deteriorate and flow. It is hard to make into a shape. The correction is difficult to do since Filler will seep into the skin.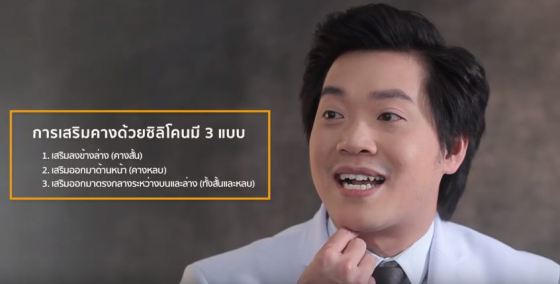 How safe is the silicone? Why is it suggested to use silicone for augmentation?
Because silicone is solid (but soft), it can be formed into shapes and can stay permanently. If we do not like it, it can be changed. There are 3 types of silicone that can be used at the chin, which are:
1.
Downward Silicone Augmentation, which is suitable for those who have a short chin. The measurement must be in balanced proportion from the forehead-nose-chin. For those who have a short chin, we will perform Downward Silicone Augmentation. 
2. Front Silicone Augmentation is suitable for those who have a hidden chin. When looking at the side, the chin will be hidden to the back. We will make it come to the front. 
3.  Middle Silicone Augmentation between the upper and lower parts, which is suitable for those who have a short and hidden chin. Middle Silicone Augmentation is needed. In severe cases, the bone may be cut or the jaw bone may be moved. The movement of jaw bone must be done together with orthodontics. The jaw bone of some people have moved a lot, so we moved the bone back in. 
You will see that Chin Augmentation is very detailed, which is one of the reasons that patients should come to see the doctor for thorough examination. Sometimes, an accurate analysis cannot be done just by looking at a photo. Most importantly, according to medical principle, it is suggested to have silicone for Chin Augmentation because it will be much safer. 
Let's look at a clip of Chin Augmentation by using silicone with the doctor. 



Thank you for the information: Dr. Thananchai Atsadamongkhon, Cosmetic Surgery Specialist, Bangmod Aesthetic Center 
"Be more confident at Bangmod Hospital". Consult about a surgery problem or ask for more information at 
Facebook : www.facebook.com/Bangmodaestheticcenter
LINE ID : @bangmod
Instagram : bangmodaesthetic
YouTube : http://www.youtube.com/user/bangmodhos