I am more beautiful because I had the surgery.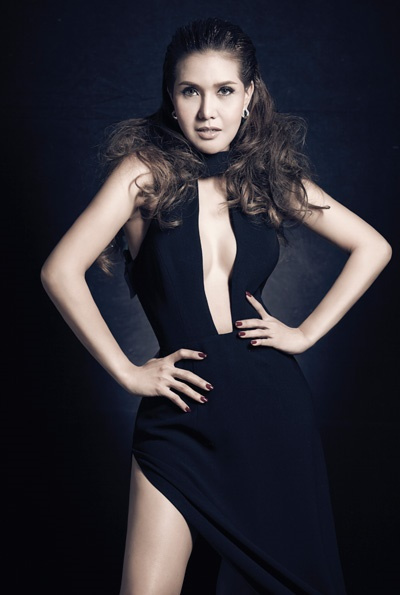 More than 25 years in entertainment,
Tom-Ratchaneekon,
with the title of celebrity, must always look beautiful and have a good personality. Many people may look at her as a small, simple woman. However, according to the women magazine where she had the opportunity to have her first fashion shoot, she feels that she is a powerful, strong, and brave woman. The important thing is that she is determined and completely confident with this fashion shoot. Of course, her age starts with number 4, but her figure and shape is still fit and firm. More importantly, her figure is much more voluptuous and healthy. How can we miss asking about beauty tips from Khun Tom?
"I am just like other women who cares about having the complete 5 food groups, enough rest, and some exercise. I walk around the village. I play badminton but not much. I rarely swim because I am afraid of having bad skin. Mainly, I focus on indoor sports. I do not have time for exercise because of work. When I have time to rest, I want to rest. This is how I spend my life regularly." However, with her work as an actress, she has to be significantly be concerned about her beauty. Since she does not have much time but she wants to look beautiful fast, she needs some helpers.
"I think that nowadays, surgery is not scary and embarrassing. With my work, I have to always look good and beautiful. There are many new innovations for us to choose. The most important thing is that it is safe and reliable. The doctor that we choose must be a specialist or else we might have to make many corrections. We might be hurt, lose money, waste time, and have bad feelings.
I have known that Khun Tom has done Breast Surgery from many places. 
Yes. I had my breasts done from many places. Whoever said it was good, I went. I didn't do thorough study. The result was that I had corrective surgery again and again. Double pain. The first time with Breast Surgery, my breasts became wavy. You could not tell from the outside but when I opened and looked at myself, I knew that I could not stand it. If the breasts were wavy like this, I could not look at myself. So I decided to do it again. I tried to look for a new place with a new doctor from my friends' word. 
For the second time, it was very troublesome. After I had done the surgery, it was called a disability in my life. When I lied down, the breasts flowed to the side of the body. Then, I felt numb. This was a difficult case. I could not accept myself. At that time, I was looking for a new place for correction. I started to look for more details. Eventually, I decided to choose the service of one of the hospitals in the Bangmod area. I think I have made the right decision because I was very happy with the result. 
"Be more confident at Bangmod Hospital". Consult about a surgery problem or ask for more information at 
Facebook : www.facebook.com/Bangmodaestheticcenter
LINE ID : @bangmod
Instagram : bangmodaesthetic
YouTube : http://www.youtube.com/user/bangmodhos