Be Perfect! Popular Surgery Trend in 2018
Anyone who has followed the top 5 popular surgery trends of 2017 may already know that the Champion and Vice Champion of Cosmetic Surgery in 2017 was the Face Lift and Hip Augmentation. Today, let's go in deeper detail about the popular surgery trend in 2018. 
Face Lift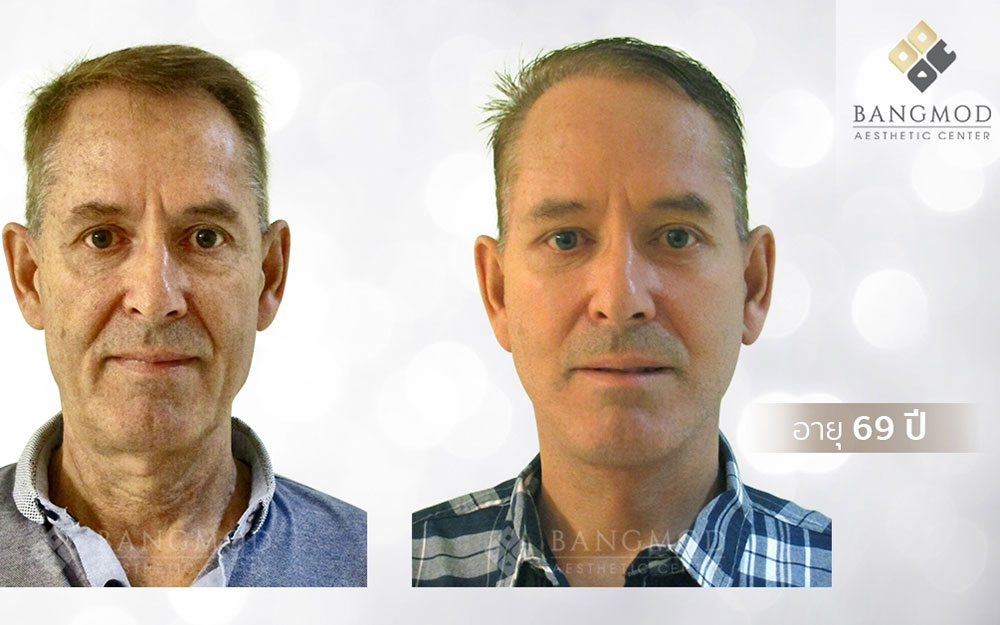 Nowadays, aging people who have sagging facial skin like to have a Face Lift with the latest technique and specialists. Most people who come for a Face Lift are about 45 years old and above. The technique that the doctor uses is Superficial Muscolo Aponeurotic System, which provides more natural results than other methods, which lifts only the skin layer and has a low chance of becoming saggy again. Face Lift by
"Bangmod Technique"
provides more permanent results and younger face, which can reduce the age. Also, it takes less surgery time, only 2-3 hours, with less bruises and only 1 day of recuperation time. After that, you can go home.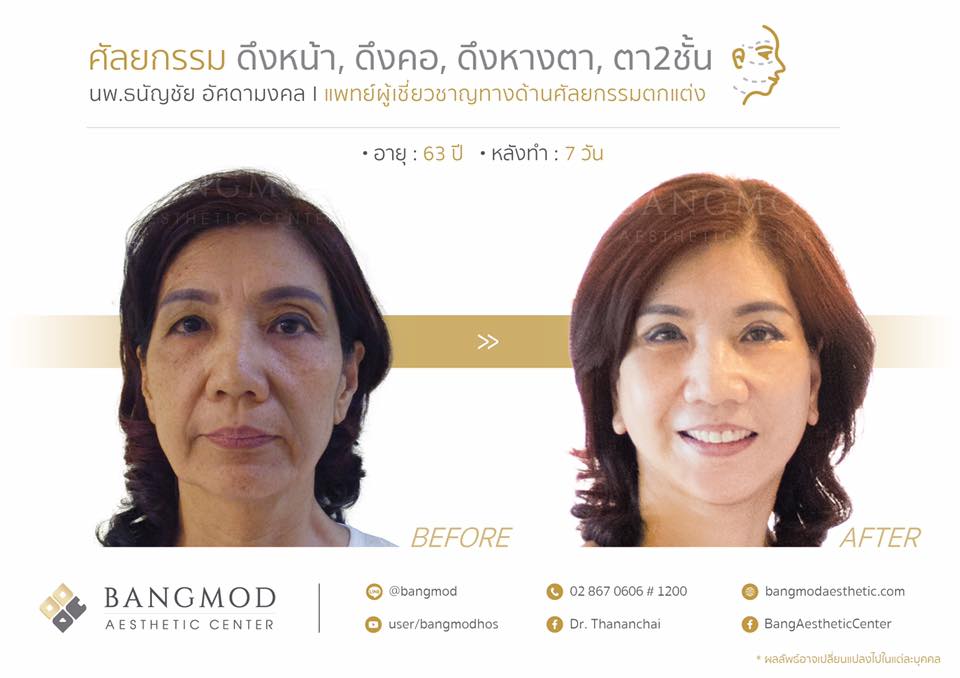 Frequently Asked Question
Q: Doctor, what are the advantages of Face Lift by Bangmod Technique? 
A: Face Lift by Bangmod Technique can be summarized as follows: 
1. Uses a local anesthetic instead of inhaled anesthetic, which is safer, especially for older people. There will be no risk of complication from inhaling the anesthetic. 
2. Takes less surgery time, only 2-3 hours, which provides less bruises on the tissue and less recuperation time.
3. Performed with Superficial Muscolo Aponeurotic System (SMAS) for a more natural and permanent result.
4. Able to select to do only the problem parts, which can be divided into 4 sections as follows:
4.1 Temporal Lift to correct drooping eyes and crow's feet around the temples, tighten the upper face and lift the cheekbones.
4.2 Mid-Face Lift to lift the cheekbones and tighten the middle face.
4.3 SMASectomy+plication to reduce deep nasolabial folds and marionette lines, tighten the lower face, lift the jowl, and make V-shape.
4.4 Neck Lift to tighten the neck, reduce sagging and neck wattle to suit the face for a younger look.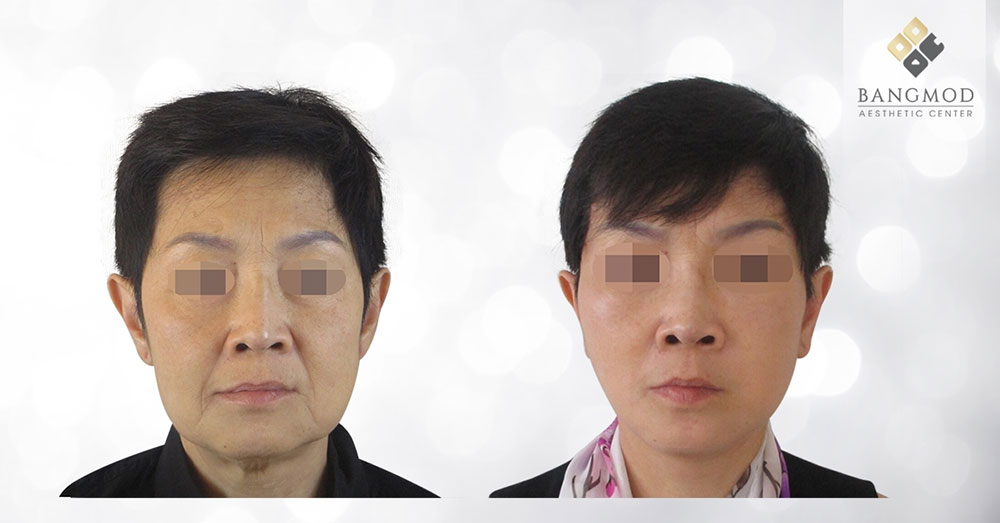 Hip Augmentation
Closely follow Hip Augmentation, a popular trend in 2017, which is becoming popular among young women. In 2018, Hip Augmentation will definitely become the most popular surgery because many women are interested and have made appointment. The natural look of Hip Augmentation can only be done at Bangmod Hospital with the latest technique and standard silicone. Many celebrities, actresses, and models are interested and make appointments to have the surgery with the doctor.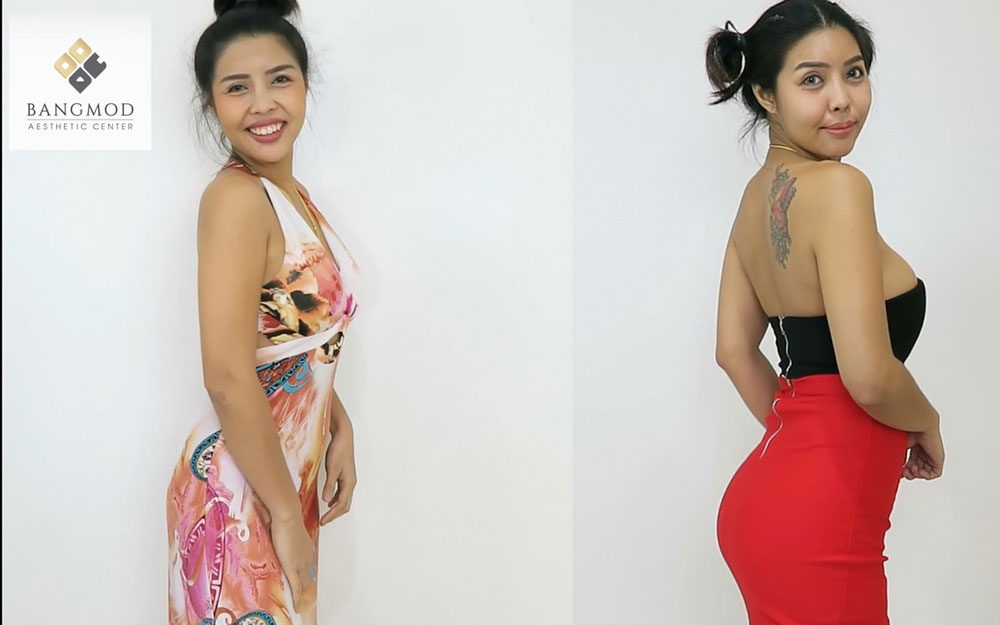 There are 2 main methods for good, safe, and acceptable Buttock or Hip Augmentation. The first method is Lipofilling, suitable for those who have a lot of excess fat that can be sucked to inject at the hip or buttock. The disadvantage is that the fat can disintegrate and harden into a lump. It is not smooth and difficult to shape. Therefore, this method is not popular, especially in slim people because the fat is often inadequate to be used for the augmentation. 
The next method is more popular and safe with good results called Gluteal Implant. It is similar to Breast Augmentation by using silicone bags that are specifically for Buttock Augmentation. It can better support force and weight. You can choose the size and shape that you want. The surgery wound will be hidden in the gluteal cleft. The advantage of this method, apart from beautiful results and safety, if there are any problems in the future, it can be corrected. 
In the past, Gluteal Implant provided a hard and unnatural buttock. At present, we have a better quality of silicone bags in several shapes, such as round, oval, or teardrop, including surgery procedures which will be done at the gluteal cleft so that the scar is not visible. Then, the doctor will put the silicone bag into the buttock muscle on both sides. The size and the shape of the bag depends on each person's needs. The surgery technique is similar to normal Breast Augmentation.  If you want to become beautiful, you have to endure as you will not be able to sit at all. You must lie down on your stomach or on your left-right sides for 3-5 days. You must not lie on your back. After 7-10 days, you can return to your daily life as normal. 
"Be more confident at Bangmod Hospital". Consult about a surgery problem or ask for more information at 
Facebook : www.facebook.com/Bangmodaestheticcenter
LINE ID : @bangmod
Instagram : bangmodaesthetic
YouTube : http://www.youtube.com/user/bangmodhos