Gluteal implant Surgery
Bouncy and curvy hips is one of the most desired things of many people. Apart from exercising, the medical profession has a solution for this by performing gluteal implant. The most common kind is augmentation at the side or the back for more curves. There are 2 methods in the augmentation. It can be augmented by injecting a substance. The substance for injection can be excess fat from yourself, which is considered to be a reduction of excess fat as well. Another augmentation is surgery by using silicone bags that are specially designed to support compression. Patients can choose the desired size, whether sphere or ellipse. Also, patients can choose between 2 types of silicone, which are smooth surface and textured surface (with less chance of having membranes).

In butt augmentation or gluteal implant, there are 2 main effective, safe, and acceptable methods in the medical profession. The first method is lipofilling, which is suitable for those who have much excess fat. It can be sucked out for injection inject at the hip or butt. The disadvantage is that the fat can disintegrate and harden into a lump, become rough, and hard to shape. Therefore, it is not very popular, especially in slim people with inadequate amount of fat to take for the augmentation. 

The next method that is more popular, safe, and effective is augmentation by using specific silicone bag for butt and hip (Gluteal implant), which is similar to breast augmentation surgery with silicone bag. However, the silicone bag is specifically designed for the butt, which can support more strength and weight. The size and shape can be selected. The surgery wound will be hidden around the genital grove. The advantage of this method, apart from beauty and safety, is that if there is any problem in the future, it can be corrected by surgery.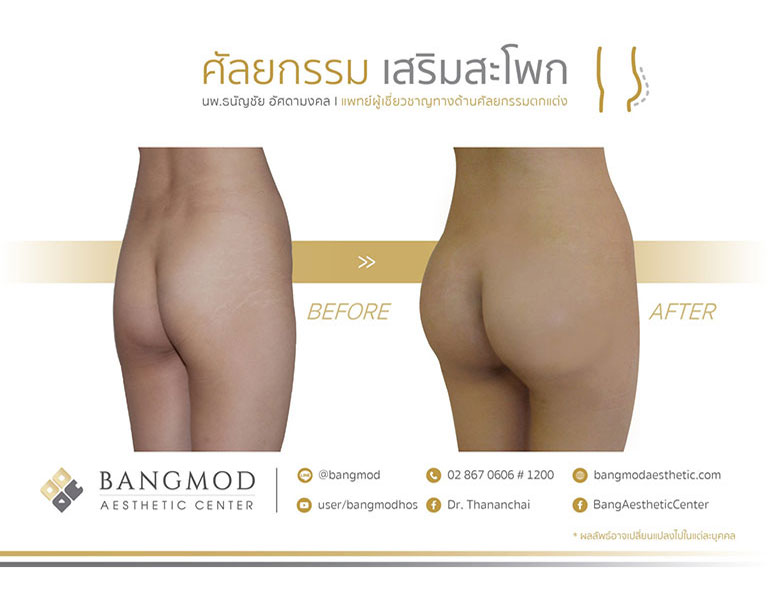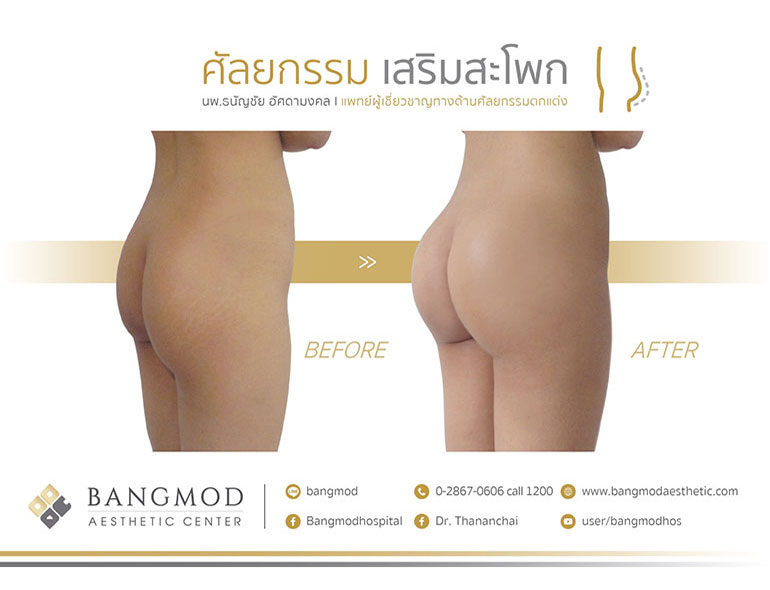 Case review of Khun Jane: Gluteal implant with Dr. Thananchai Assadamongkol, Bangmod Hospital
Hello. My name is "Jane." I am 29 years old. I have my own business selling clothes. Before this, I did not feel confident about my hips. When I wear something, I feel like I have no hips. So, I lose my confident. I think most adults are like me. I have studied lots of information over the years. Mostly, there are no gluteal implants because less people need it. I had been looking for several places and doctors. Each place has different advantages and disadvantages and different expenses. I was looking for the information for a long time until finding a review at Bangmod Hospital. I decided to choose Dr. Thananchai because I looked at the review and found that the doctor had done it beautifully. The doctor has performed many cases and given very good advice. Therefore, I decided to do the gluteal implant here. I trust and believe in the doctor's skill.

After having the gluteal implant at Bangmod Hospital, I feel more confident. After the augmentation, my hip is in a shape that everyone compliments and says I look perfect in any dress. I feel more confident that I do not need the underwear to supplement my hips anymore. Apart from the gluteal implant surgery, one thing that I feel very impressed about is the treatment service of the nurses. Everyone is very kind. I am very satisfied. While recuperating at the hospital, the doctor always came to visit. The doctor gave advice and treatment after the surgery. I am very pleased because the doctor is very kid. I feel very impressed. 
Interview of Khun Tookta, Punnathipha Suwannarat (Thai Actress / Model)
"The reason for having the gluteal implants is because I think beautiful women must have breasts, waist, and hips. I have a small hips, so I consulted Dr. Thananchai

.

The doctor said that I can have gluteal implants, so I decided to do it. This time I recuperated for one week and started to shoot a soap opera. I had less recuperation time but there was no problem because I took care of myself according to the doctor's direction. The doctor explained everything, described the equipment, and how to take care of myself. It took less time for the operation. The doctor is very good. I had less pain and less bruises. It is very impressive."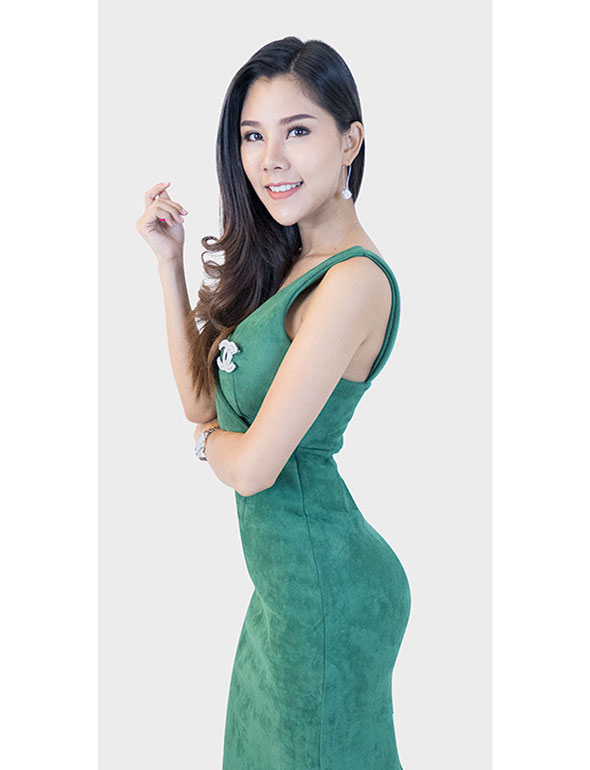 "Be more confident at Bangmod Hospital". Consult about a surgery problem or ask for more information at 
Facebook : www.facebook.com/Bangmodaestheticcenter
LINE ID : @bangmod
Instagram : bangmodaesthetic
YouTube : http://www.youtube.com/user/bangmodhos